Profession
Practice
Provincial
Ontario accounting firm launches formal affiliation with legal practices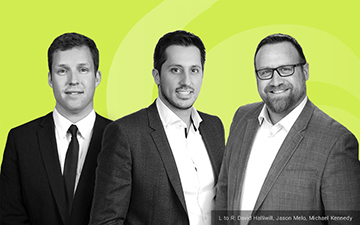 Baker Tilly Trillium, PMHS Law and Ingenuity Counsel to function jointly
TORONTO, July 8, 2019 – Southwestern Ontario accounting firm Baker Tilly Trillium LLP has launched a formal affiliation with Pearsall, Marshall, Halliwill & Seaton LLP (PMHS Law) and Ingenuity Counsel, two independent legal firms in Essex County. Due to regulatory requirements, all legal services branches will remain separate entities from Baker Tilly Trillium, but the two consultancies will function (as allowed by industry regulation) as a joint group for the purposes of branding and marketing, resource management and the holistic provision of specialty client services.
Augmenting the financial offerings Baker Tilly Trillium provides to its clients, PMHS Law and Ingenuity Counsel will be available as extended services to meet the legal needs of clients and vice versa.
According to Baker Tilly Canada, "The professional services of accounting and law are rarely formally affiliated in Ontario and indeed throughout Canada. A unique business offering, Baker Tilly Trillium will provide corporate commercial, real estate, family, estates and U.S./cross-border legal services through this affiliation."
Baker Tilly Trillium managing partner, Jason Melo, explains, "As providers of expertise that often overlap in terms of a client's needs, this is a tremendous opportunity to provide the combined professional services of law and accounting." He continues, "Our firm's dedication to innovative growth and the provision of unique specialty services is not limited to financial offerings. By affiliating with these teams, we are gaining access to like-minded business leaders who are growth-oriented and provide exceptional client service. We are creating complementary business support capabilities that are value-adds for our clients."
Established in 1965, PMHS Law has offices in Leamington, Tecumseh, and Lasalle, Ont. PMHS Law offers a wide array of services with experts practicing in corporate commercial law, real estate law, family law, employment law and wills and estates. "The legal services and accounting industries have long missed out on the opportunity to combine resources and client acquisition/management processes," says David Halliwill, managing partner of PMHS Law. "We can provide greater value to our clients together, saving them time, expense and the headache of working with two separate sets of professionals."
Ingenuity Counsel, based in Tecumseh, Ont., provides United States legal services to Canadians. The founder of Ingenuity Counsel, Michael Kennedy, explains the value of this affiliation and integration with Baker Tilly Trillium: "There is consistently an accounting component to the legal work we provide (and the opposite is true as well), which we were previously sending out-of-house. Now, clients will neither have to explain the complexity of their joint legal/accounting needs nor search on their own for the right experts to address them."
"This is a game-changing new specialty service that showcases the ingenuity and boldness of our firm and our consistent dedication to creating value for clients," adds Melo.
By Canadian Accountant with files from Baker Tilly Canada.