Profession
Business
National
Ask A CPA uses humour, history to sell profession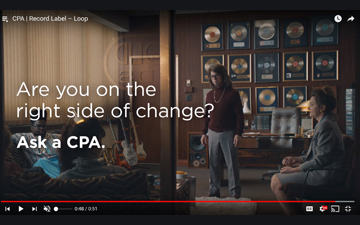 New campaign positions Chartered Professional Accountants as being on the right side of change
TORONTO, Oct. 26, 2017 – Chartered Professional Accountants across Canada have a new advertising campaign to represent the CPA profession. The campaign, called CPAs Master Change, features the following TV spot, called Record Label:
"I think the use of humour makes the ad memorable," says Dawn McGeachy, a partner with Colby McGeachy Professional Corporation in Almonte, Ont. "It helps the public understand that these are roles that we can fulfil for their small business. That we can be a strategic partner. That we can help them think creatively. We're not just counting beans any more — we're so much more than that," she explains.
But another practitioner, Jason Kingston, a principal with the accounting firm DSK LLP in Kitchener, views the same advertisement negatively.
"I think this commercial completely misses the mark. I don't see how it really ties into CPA training and the effectiveness of the profession," he says. "I intellectually understand what the target of the advertising is — or at least I think I do — in that CPAs are more than just number crunchers. But I certainly don't get that initial reaction from watching the ad. My gut reaction to the ad is closer to disappointment that my dues helped fund it," Kingston charges.
The purpose of the advertisement is to attract decision-makers who may need to hire or to seek the counsel of a CPA to have a positive impact on their business, says Allan Topol, the Toronto-based associative creative director of advertising agency DDB Canada. He is also the creative lead for CPA Canada's recently launched annual campaign, using the tagline, Ask a CPA.
"We're always conscious of positioning the brand in a positive light that might expand peoples' perceptions of what a CPA is and what they do, or even where they work," Topol explains.
Topol's team at DDB came up with the idea of using comedy in a TV setting because "the medium naturally lends itself to story telling, and we wanted to elicit some kind of response. The idea of going back in time let us have some fun with the characters," he says.
The juxtaposition between the musicians of the 1990s kicking around business ideas that we know with 20/20 hindsight today were unworkable, in contrast to the CPA who correctly foresaw the changes coming, creates the humour, Topol elaborates.
An independent view
Daniel Tisch, the president and chief executive officer of Argyle Public Relationships in Toronto, was asked to offer an independent assessment. Tisch based his opinion on the creative for both the TV and print ads, which have captions such as, Can cab companies win the taxi war? Will machine learning replace human know-how? Can green energy put a company in the black? If NAFTA goes south, will our economy follow?
"This campaign feels like a smart evolution. It's not the sort of campaign you do at square one, when you need to introduce a brand. It's a campaign to add new depth and dimension to the way the target public perceives it," says Tisch.
"The use of questions is frequently effective — particularly if the questions play to widespread business anxieties. The question, 'Are you on the right side of change?' is powerful for this reason. Such questions work best when they are [such that] a typical business leader can see their relevance to his or her organization," he notes.
The long-term challenge that an individual CPA who is hired on the basis of these ads faces is that he or she must be able to deliver the level of insight and consultative leadership these questions require, Tisch says.
"While I really like the campaign, I'm unsure about CPAs' credibility on some of the more macro-level questions, such as the economic impact of NAFTA, or whether machine learning will replace human know-how. These types of questions might work best if they were explicitly connected to an individual business," he elaborates.
For example, one way to frame the free-trade question would be to ask, 'If NAFTA goes south, how will that affect my business?' he suggests.
CPA campaign ad buy
In addition to the television and online music ad, the 2017-18 CPA advertising campaign involves newspaper, magazine, and social media print ads on Facebook and Twitter. Billboards, bus wraps and taxi roof signs are also being used. The questions, such as Can cab companies win the taxi war?, are followed by the tagline, Ask a CPA, which directs viewers to askcpas.ca.
"These one-liners I'm better with than the commercial," says Kingston. "I think these are questions that CPAs with the requisite knowledge would be able to opine on, combining our financial knowledge with analytical skills," he elaborates.
McGeachy likes them too. "Each of them relates to a topic that is very top of mind in today's environment. They are very colourful, and thus I presume will appeal to younger people. The messages are relevant," she says.
This season's advertising campaign, which was launched in September 2017, is scheduled to run until the end of March 2018.
Jeff Buckstein, CPA, CGA, is an Ottawa-based business journalist.