Profession
Practice
Business
Special Report: Less is more in new audit engagements at Canadian Big Four accounting firms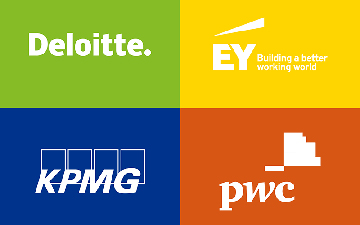 KPMG led rivals in net new audit clients but PwC scored the biggest win in 2021
Editor's Note: This article has been updated to reflect revised information.
TORONTO, May 5, 2022 – Accounting firm PwC Canada has proven that less is more by earning the highest net new audit fees through the fewest net new audit clients among the Big Four accounting firms in 2021. While KPMG Canada acquired the highest number of net new audit clients, PwC acquired as a client one of Canada's most valuable conglomerates — and the lucrative audit fees that accompany new audit engagements.
Since our launch in 2017, Audit Analytics has provided SEDAR analysis to Canadian Accountant prior to publication, for our annual reviews of net audit engagement client gains and losses among Canadian auditors of publicly traded companies. We publish half-year and year-end reports, separating our reporting into Big Four accounting firms, followed by reporting on the mid-market tier of accounting firms in Canada.
PwC Canada gets a meal ticket in Weston, Loblaw
George Weston Limited (GWL) is one of Canada's largest conglomerates with controlling interests in several iconic Canadian brands: Loblaws, Shoppers Drug Mart, President's Choice and more. In September 2021, the conglomerate filed change of auditor notices for four companies: GWL, Choice Properties Real Estate Investment Trust, Eagle Credit Card Trust, and the mammoth Loblaw Companies Limited, which also owns Shoppers.
According to SEDAR data, KPMG had been Weston's auditor for at least 25 years, dating back to 1997. PricewaterhouseCoopers LLP was named auditor in September 2021. There have been no reportable events in connection with past audits. PwC has worked with Weston in the past, most notably when it was hired to manage the affairs of Glenhuron Bank, in a tax case that was ultimately decided in favour of Loblaw by the Supreme Court of Canada.
Of the combined $16.3 million in new audit fees earned by PwC in 2021, the Weston companies accounted for more than $8.8 million, earning net audit fees gained of $12.5 million. (PwC also acquired Edmonton engineering firm Stantec, a former client of EY Canada, which accounted for $5.8 million in new audit fees.) By contrast, KPMG, which ranked second in new audit fees, recorded $8.9 million.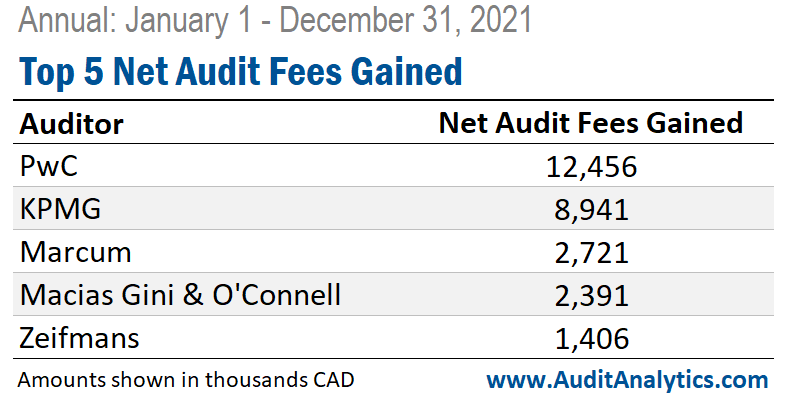 Click on image to enlarge. Courtesy: Audit Analytics.
KPMG leads the pack in net new auditor engagements
With 42 new audit client engagements, KPMG far surpassed its Big Four rivals, acquiring more new audit clients than Deloitte, EY, and KPMG combined. That helped KPMG secure top spot among the Big Four in net audit clients gained. Among the brand-name new clients in the KPMG portfolio are Quebec dairy company Saputo (market cap: $16.3 billion); waste management company GFL Environmental (market cap: $14.3 billion); and cemetery company Park Lawn (market cap: $1.2 billion).

Click on image to enlarge. Courtesy: Audit Analytics.
EY Canada came in second place with seven net audit engagements, many in the traditional resource sectors of oil and gas, metals and mining, and natural resources. Its standout acquisition was Canadian Pacific Railway, a former client of Deloitte, which added $3.8 million in audit fees to its bottom line. The CPR acquisition helped EY Canada lead its rivals in net market cap gains ($62.9 billion) of which CPR added $63.3 billion of $70.5 billion overall.

Click on image to enlarge. Courtesy: Audit Analytics.
With both EY Canada and PwC Canada far outpacing their rivals in the market capitalization of net new audit clients, the takeaway among the Big Four accounting firms from 2021 is that the audit fees from one large cap client — which according to recent data, are less as a percentage of revenue than smaller clients — are still worth more than many smaller clients, and can make up for overall client losses.
When it comes to new client gains and losses, less is more.
2021 Client Gains and Losses data is provided by Audit Analytics, which provides insight into the Canadian audit marketplace through market intelligence, due diligence, compliance monitoring and trend analysis. Its Canadian databases provide detailed research and expert analysis on nearly 4,000 companies filing with SEDAR. Contact them through 508 476.7007 or info@auditanalytics.com.
By Canadian Accountant staff. Next: 2021 Client Gains and Losses for SME accounting firms in Canada.