Profession
Practice
Business
Practice Demographics: Recruiting the next accounting generation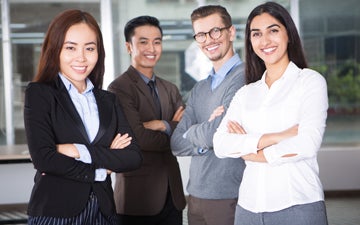 What is the accounting profession and its public practice firms doing to address its demographic crisis?
TORONTO, Nov. 21, 2017 – What can be done to ease the serious demographic issues that the Canadian accounting profession faces? Insiders point to the need for recruiting strategies that recognize the personal and professional needs of the younger, millennial generation, which are often very different than those of past generations.
The Chartered Professional Accountants of Canada is trying to aggressively recruit top students into the profession, says Tashia Batstone, senior vice president of external relations and business development with CPA Canada. That includes accrediting several universities and colleges to deliver the CPA program and prepare students for the common final examination.
"We're really working hard to make sure our program is innovative, flexible and accessible, but at the same time maintaining a high standard," says Batstone.
CPA Canada is also reaching out to new Canadian immigrants and the Indigenous population. "We do a lot of work around trying to make sure that we find ways for foreign trained professional accountants to come into Canada and have their credentials recognized fairly quickly," says Batstone.
She notes that CPA Canada recently signed a tri-lateral agreement with the U.S. and Mexican accounting professions (the AICPA and NASBA, respectively), which recognizes the three designations as being substantially equivalent. "We do those based upon what countries we see having the most traffic coming into Canada," she adds.
"We know from a demographic perspective that the Indigenous population in Canada is outpacing growth in the rest of the country. The Indigenous population is younger than the general population, and so we have specific strategies in place to try to encourage Indigenous people to move into the accounting profession," she says.
CPA Canada is working with the Martin Family Initiative to develop a mentoring program whereby CPAs go into high schools and mentor Indigenous students with high academic potential. A second activity involves working with the Aboriginal Financial Officers Association of Canada to encourage individuals who have expressed interest in finance to pursue further training in finance and accounting.
Changing the Big Four culture
Kim Tabac, chief talent officer with Deloitte Canada in Toronto, says Deloitte has made three key commitments with respect to the talent they hire. They help employees develop strong leadership skills. The firm offers a flexible work environment to pursue personal time if needed — recognizing that the traditional world of always working from nine until five o'clock is a relic of the past.
And they provide an inclusive environment. "It is table stakes that you need to be providing an environment where everybody feels free to bring their whole self to work every day," says Tabac.
Stephen Shea, managing partner for talent at EY in Toronto, says "we understand that millennials … want to attach themselves and their careers to an organization that has a purpose that is meaningful to them, and aligned with their core values."
EY also emphasizes work-life flexibility. As a professional services firm that is client-service focused, employees still must be able to work to meet their clients' needs, but that doesn't mean people need to be in the office all the time, he says. "It's not [about] creating a culture that the last person out the door is the most successful," Mr. Shea stresses.
Changing the small firm culture
Dawn McGeachy, a partner with Colby McGeachy Professional Corporation in Almonte, Ont., says she recognizes the changes necessary to attract new people to the profession. The younger generations "are not so eager to work the same kinds of hours, and live the same type of non life-work balance that we sometimes have during peak periods," she notes.
McGeachy and her partner, Everett Colby, who are both in their early 50s, have been actively trying to identify a potential successor for their practice for about the past five years. Ideally, they'd like someone around their 30s who could come aboard as an associate and get on track to become partner. But that hasn't been an easy task.
"We expected that, traditionally, we were going to bring a partner in that would provide us with a buy-out to retire," says McGeachy. "But I worry those options aren't going to be available to us, because there are so many of us cluttered in the same demographic looking to identify successors, and too few young people that want to follow this same path," she says.
Colette Miller, a partner with Wilde & Company/Olson Law of Vegreville, Alta., says the reality often doesn't match the rhetoric when it comes to changing workplace culture. She has seen situations where "old-school" partners claim to their professional networks that they are changing to meet the needs of millennials but behind the scenes still demand traditional workplace policies and practices.
"I feel sorry for them, quite frankly," she says of those partners, "because you risk losing these young, capable people with vision, because you're too archaic." Wilde & Company/Olson Law is in the process of "flattening" its workplace culture into "pods" to allow for more inclusivity, innovation and workplace engagement.
Practitioners have a personal stake in changing perceptions about careers in public practice. As Canadian Accountant has reported in this series, roughly three-quarters of CPAs in public practice will hit or surpass retirement age within eight years. Unless the accounting profession finds ways to bring more CPAs into public practice, it is facing a demographic crisis that will impact its members, the public and the economy.
Jeff Buckstein, CPA, CGA, is an Ottawa-based business journalist.With files from Colin Ellis.