Business
Global
Practice
Canadian angle to record revenues reported by KPMG International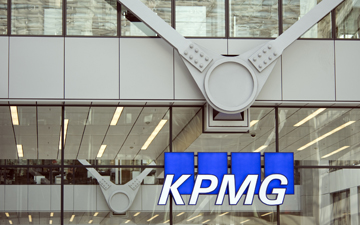 Accounting firm now headed by Canadian Bill Thomas, praised for diversity promotion
TORONTO, Dec. 15, 2017 – Canadian accounting figures prominently in the record revenue of US$26.40 billion reported in the latest financial year for KPMG International. The firm reported a five per cent increase in revenue, for the 12-month period ending in September, though the overall pace of growth lagged behind its rivals in the Big Four.
Canadian Bill Thomas, formerly CEO of KPMG Canada and a graduate of UBC, is now the Chairman of KPMG International. "The KPMG network grew strongly while continuing to transform to meet the rapidly changing demands of clients," said Thomas, who was appointed in October. "We are making significant, strategic investments across Audit, Tax and Advisory in technology and innovative services where clients are facing their greatest challenges and disruption."
Thomas did not comment on the reputational risk of KPMG's involvement in a South African political scandal or its dismissal in April of five audit partners for improperly receiving advance information from an employee of the Public Company Accounting Oversight Board. "We remain committed to meeting our public interest responsibility and continuously improving the quality of the vital work performed for clients and capital markets," said Thomas.
Revenues at the KPMG Americas business increased by four per cent with tax growing by almost seven per cent. Overall, however, KPMG's advisory business was the best performing unit at six per cent, double the growth of its audit practice, at a time when advisory is growing rapidly at all the Big Four.
Thomas was recognized for diversity practices as head of KPMG Canada and the company lauded its diversity in a press release. KPMG was recognized as one of Canada's Best Diversity Employers for 2017. Women now make up 47 per cent of the KPMG network's workforce, which grew to a record high of 197,263 staff. In the 10 largest countries, 28 per cent of KPMG's latest class of partner promotions were women.
"KPMG's inclusive culture helps ensure that teams reflect the diversity of skills, backgrounds, experiences and thought expected by clients," said Susan Ferrier, KPMG International's Global Head of People, Performance and Culture. "We encourage our people to see the world through many different perspectives. We empower our people to be themselves and respect others — it's core to our values and what we believe in."
According to this year's compilation of client gains and losses by U.S. firm Audit Analytics, KPMG gained 12 new clients for the calendar year ending Dec. 31, 2016, with the firm adding Calgary-based Baytex Energy as its largest company by market cap.
The firm also made news in Canada this year for its report on post-secondary education for the Manitoba government of Bryan Pallister and a report on the finances of the Pelham, Ontario.
Colin Ellis is managing editor of Canadian Accountant.