Profession
Practice
Business
Demographic crisis in Canadian accounting: Is practice still attractive?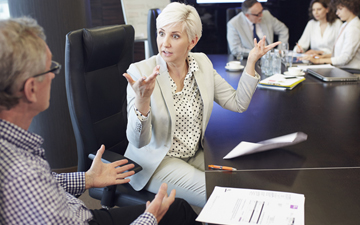 As older CPAs look to transition their accounting firms, they're finding the profession has lost its appeal
TORONTO, November 17, 2017 – Chartered Professional Accountant Jason Kingston, a principal with DSK LLP in Kitchener, recalls that the first Ontario tax conference he attended involved a keynote speech on demographics. It was 2011 and he was 34.
"The first question the speaker asked was 'how many in this room hope to retire, say in the next ten years?' And probably two thirds to three quarters in the room put their hands up. The follow up question was 'how many of you have any succession plan whatsoever?' And maybe ten per cent left their hands up. So it's always been in the back of my mind since that day that there could be issues," he says.
Dawn McGeachy is a CPA and a partner with Colby McGeachy Professional Corporation in Almonte, Ont. She says the issue of succession resonates with her personally, noting that she and her husband and partner Everett Colby, who are both in their early 50s, have been actively trying to identify a potential successor for their practice for about the past five years. Ideally, they'd like somebody around their 30s who could come aboard as an associate and get on track to become partner. But that hasn't been an easy task.
"We might get somebody who has the aptitude, but they don't have the will. Or they have the capability, but they don't want the responsibility. So it's really difficult. We expected that traditionally, we were going to bring a partner in that would provide us with a buy-out to retire. But I worry those options aren't going to be available to us, because there are so many of us cluttered in the same demographic looking to identify successors, and too few young people that want to follow this same path," she says.
"The logistics of bringing them on as a partner takes some years," she adds. "Once you are in your 50s, or certainly by your 60s, you need to be thinking about that. The closer that those timelines loom, the more I'm going to be preoccupied with 'how am I going to make this happen?'"
Is practice still attractive?
Kingston believes that perceptions about public practice need to change. "I think that of all possible places that accounting graduates can look to work, public practice probably has the worst reputation. I'm not sure that it's necessarily deserved anymore. But it's definitely a carry-over from the past. It does have the perception that if you get a job in public practice you're going to be working 60 hour weeks for your same pittance of a salary, and you're not going to have a work-life balance," he says.
He does not believe that perception is accurate. He says many firms have made a concerted effort into making sure they have a much better balance than in the past, particularly in the last decade, although he acknowledges that balance can temporarily tip during the heavy period of tax season.
"I think firms have gotten more reasonable in allowing banked hours, paying overtime for those hours. But firms need to let graduates know that we do believe in work-life balance. We don't want to overwork people," says Kingston.
"We are one of the more interesting sectors of accounting you can work in. You're not doing the same month-end close for a company month after month after month. You get to work on different projects all the time.
"So, if we can get younger graduates understanding what the industry is about, what opportunities there are, and the fact that these old perceptions … are not the reality anymore, that would go a long way," he emphasizes.
Jeff Buckstein, CPA, CGA, is an Ottawa-based business journalist. Next, what can the accounting profession do to attract more accountants into public practice?