Partner Posts
Practice
Technology
How to persuade your accounting clients to adopt new technologies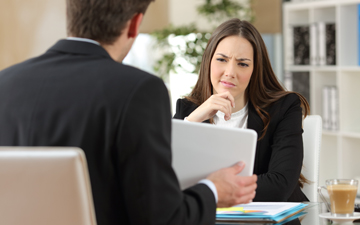 Use the right approach and your clients will be scanning their own receipts, says Jennie Moore of Moore Details Inc.
TORONTO – As accounting and bookkeeping practices embrace virtual, paperless workflow ecosystems, persuading clients to adopt new technologies has become part of the job for principals, practitioners and partners in the two professions. For those in the role of client acquisition and business development, it helps to be part psychologist, part salesperson, especially when asking a client to adopt a new technology.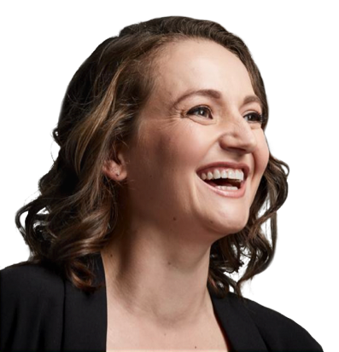 Jennie Moore is the founder of
Moore Details Inc., a boutique bookkeeping practice based in Eastern Ontario.
"Clients only want to pay for things that solve their problems," says Jennie Moore, the founder of Moore Details Inc., a boutique bookkeeping practice. Moore holds a "discovery call" with new clients, which takes anywhere from 30 to 60 minutes, then creates a needs assessment. "I take a little bit of a psychology approach, which has its benefits. I learn everything that's bothering them, so I know how to write an engagement that's perfect for them. I can only do that by listening."
Moore Details, which is based in Eastern Ontario, is completely virtual and paperless. "No bricks, no mortar," says Moore. "We leverage cloud technology to optimize the client experience and basically make bookkeeping simple." The three-person practice works with accounting firms such as Crowe Soberman in Toronto, Wilkinson & Company in Belleville, and Welch LLP in Ottawa. "They take the clean data and do their amazing work with tax strategy and higher-level compliance work," says Moore.
For some clients, Moore explains, "price is always a stickler. First, you have to evaluate the client. If you have a super price-sensitive client and you're trying to offer high-value services, you can lead a horse to water, but you can't make the darn thing drink." Other clients, however, have no problem investing in tools if they see the value. "You have to educate them during the process," says Moore. "If they're going to invest in a tool just to make your job easier — and that's the way you're articulating it — then why would they do it?"
Seeding the Financial Management System
When it comes to creating a cloud-based ecosystem for a client, Moore explains, there are different types of technology categories. "The core is always going to be the financial management system," says Moore. "There are many platforms out there and they're all really good. A lot of practices go with what's best for 'us' — and I think that's OK in terms of keeping it streamlined, keeping your workflows clean — but I think it's important to look at what's best for the client, which is why we leverage both Xero and QuickBooks Online. You have to decide as to what's best for that client."
Vendor payments is a second, important category. "If you're going to eliminate paper, you might as well eliminate cheques," says Moore, who recommends virtual payment options like Plooto and Veem. Moore recommends Wagepoint as a payroll solution. "You need to find something in that category and all that stuff needs to be online, virtual."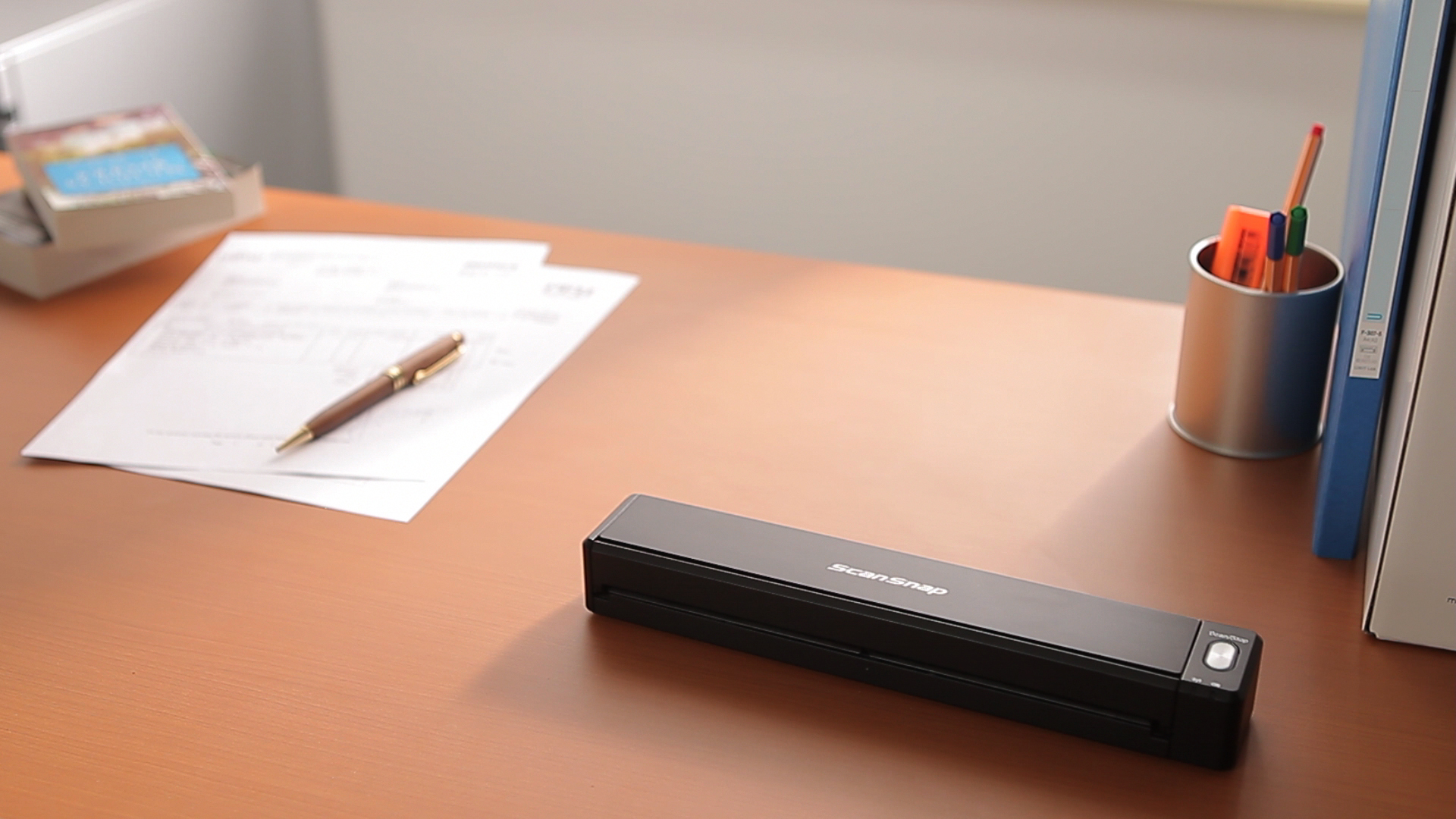 The portable Fujitsu ScanSnap iX100.
A third, critical category is what Moore calls "receipt capture," typically associated with such software applications as Hubdoc and Receipt Bank. "You really need to focus on receipt capture to 'seed' the financial management system," explains Moore. "That's really important because you want to eliminate getting paper and shoeboxes in your office."
That's where image scanning technology, such as the Fujitsu ScanSnap, comes in. "There's two that integrate with receipt-capture apps like Hubdoc," says Moore. "There's the iX100, which is a battery-operated portable scanner. It fits into a purse or a briefcase really easily — great for a mobile sales individual like a real estate agent — and then there's a larger scanner called the iX1500. Both have APIs that go into an application like Hubdoc."
Clients Scanning Their Own Receipts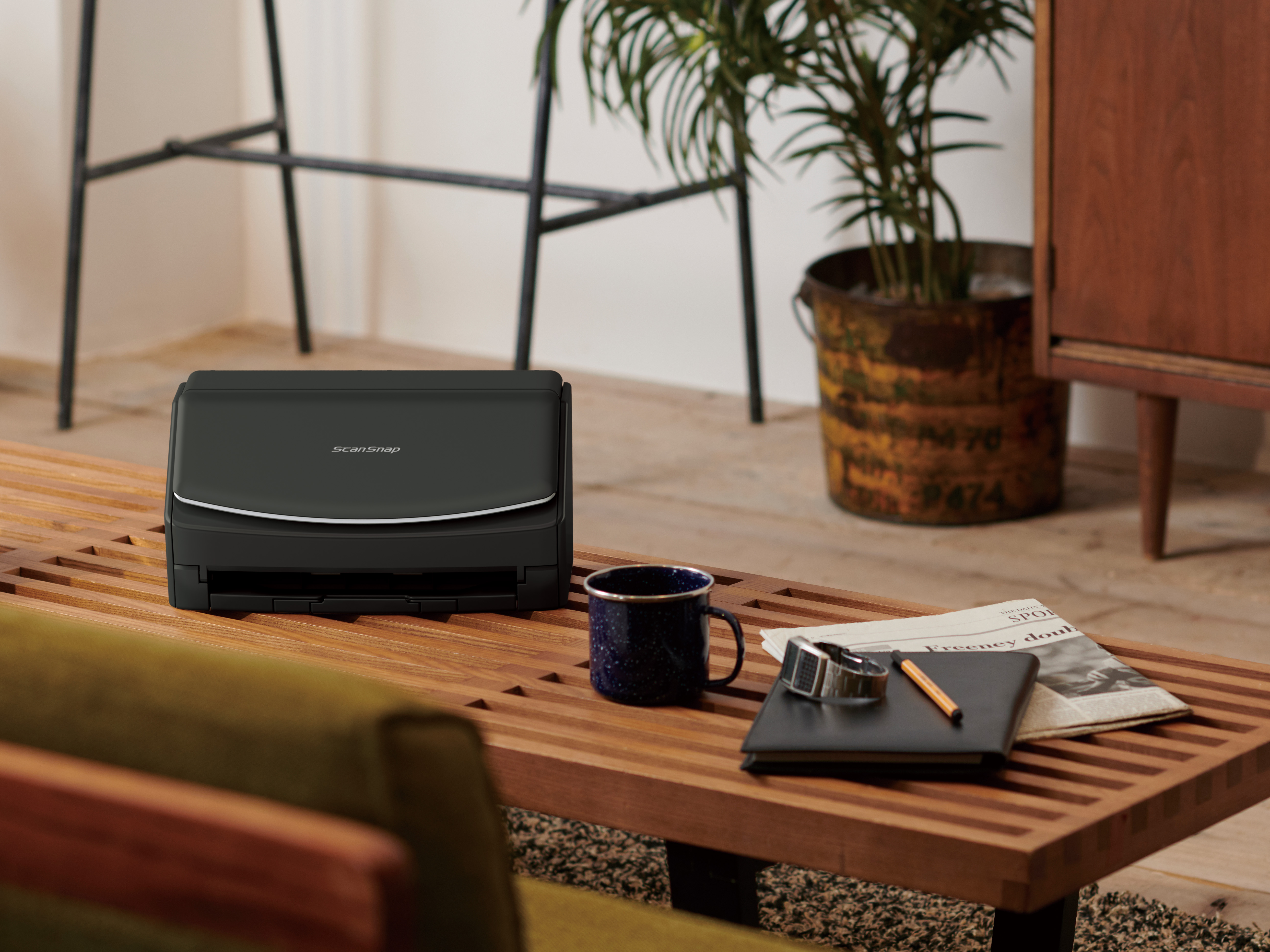 The Fujitsu ScanSnap iX1500 in black.
When it comes to client relationships, Moore stresses that her company is "in it for the long game," and most clients don't want to be "nickel-and-dimed." Moore Details will purchase an iX100 or an iX1500 from Amazon and have the ScanSnap drop-shipped to the client's location. "And we use screenshots and a video conferencing system platform to walk them through the installation," adds Moore.
Moore estimates that about 10 per cent of her clients have ScanSnaps. The cost is included in the engagement. "We tend to take a long view, holistic approach," explains Moore. "I'm going to bill you $1500 a month and I'm going to take care of all your issues, regardless of whether it's hardware, subscriptions, whatever it is." (Moore notes that firms can always include the hardware as a line item and "slap a fixed asset sticker on it," but neither is worth the trouble.)
"Once they're set up, we don't monitor the hardware anymore," continues Moore. "We just look at the data portal, which is Hubdoc or ReceiptBank." Image scanners are particularly helpful when it comes to clients who work in paper environments, like restaurants, for example. Vendors will often deliver produce and a paper invoice at the same time; clients have a scanner in the kitchen and scan the invoice when it arrives.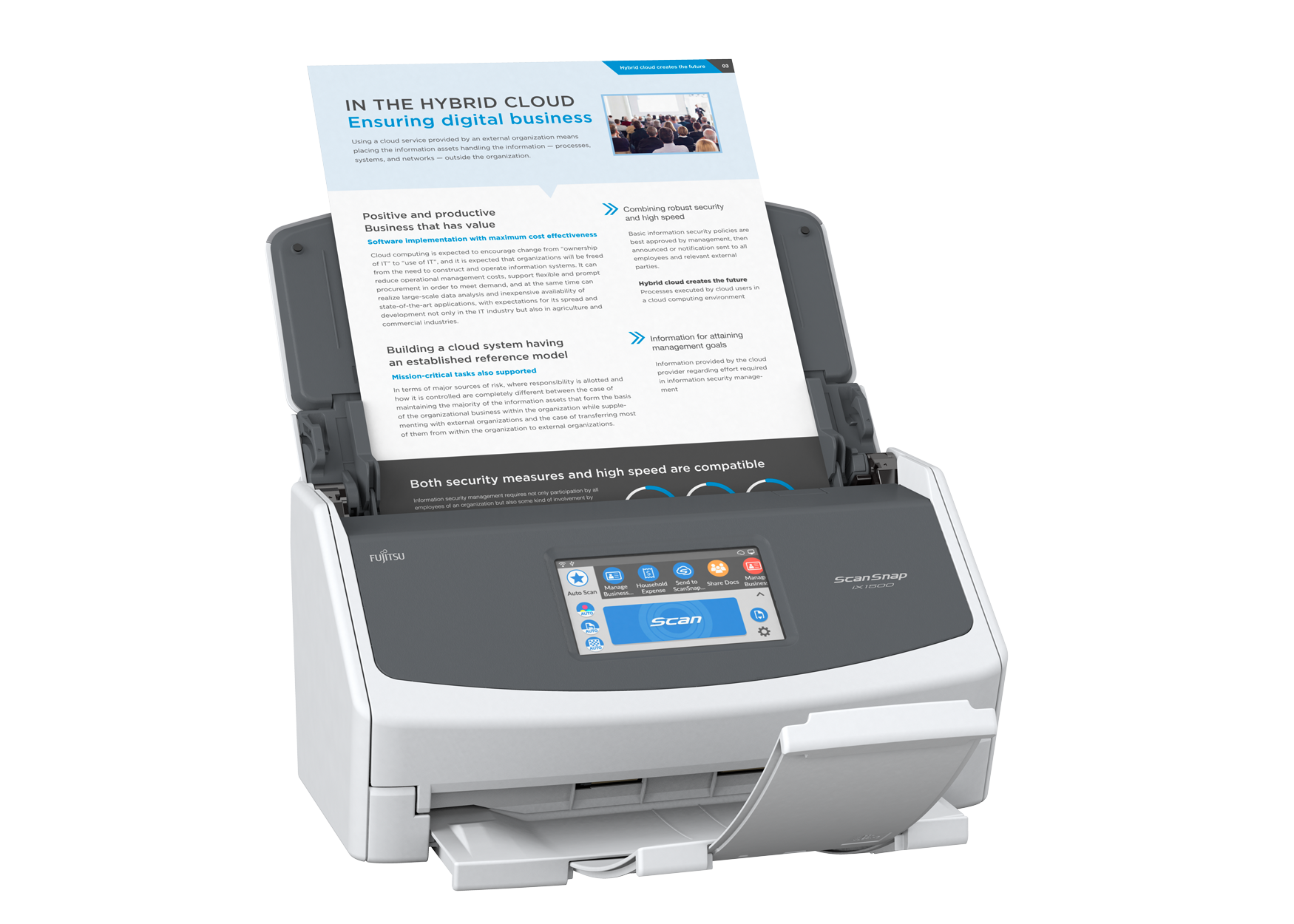 The Fujitsu ScanSnap iX1500 in white.
Surprisingly, not-for-profits also deal in paper, typically because of board behaviour, whether in terms of cheque signatures, per diems or expense reimbursements. "We found the scanners have been especially helpful in situations where people are between a mindshift — they've come from a heavy, desktop-based paper systems and they're going to a cloud system."
A savvy marketer, Moore is active on social media and has posted 80 videos on YouTube. In the 14 years that she has been in practice, Moore has seen a momentous shift in digital transformation. "The last five years has been absolutely phenomenal," she says. "We're completely virtual, completely paperless. We engage virtually. I honestly can't see myself going back to those early days."
"The only challenge today is things change so quickly! But it's been very, very exciting and that's where we are today, creating customized virtual accounting platforms for clients' needs."
Colin Ellis is managing editor of Canadian Accountant. Links provided within this Partner Post do not imply an endorsement of products and/or services.