Profession
Business
Ethics
Sunday News Roundup 23.07.30: Profiles in pilfering, plus internal ethics and more Canadian accounting news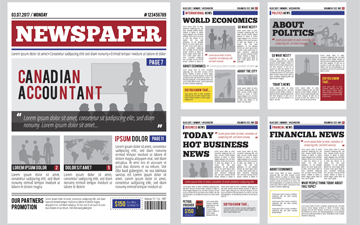 Wrapping up the odds and ends from the past week in Canadian accounting news
Subscribe to our weekly newsletter and get all the week's stories. Click here to sign up.
TORONTO, July 30, 2023 – Some commentary has finally emerged since the Ontario Securities Commission published its report on internal ethics at public accounting firms in Canada. The report followed revelations and sanctions over various wrongdoings at accounting firms, including exam cheating and backdating workpapers.
The news was widely reported by the media and it looked bad for the audit profession. One month later, however, the chair of the OSC, Heather Zordel, resigned less than a year into the job. Zordel, who recently received the controversial King's Counsel designation from Doug Ford, is now the chair of the Condominium Authority of Ontario.
The commentary has been tepid. Stikeman Elliot notes the OSC "does not introduce any new professional or regulatory requirements." And now, on to the news from the past week in Canadian accounting.
Xero data shows SMBs falling behind economically
Canadian small businesses are struggling with the challenging effects of diminishing household incomes. The news comes from small business sales data from the Xero Small Business Insights (XSBI). According to this latest XSBI report:
Despite the Canadian economy growing 2.2% in the March quarter, the XSBI data showed Canadian small business sales volumes declined by an average of 4.1% in the same period.
Sales rose just 0.4% year-over-year (y/y), significantly slower than last year's growth when the average was 7.3% y/y between June and September 2022.
Small businesses waited an average of 31.1 days in the first three months of 2023 to be paid, a full day longer than the 2022 average.
For a wider breakdown of the findings from October 2022 – March 2023, the full report can be found here.
Maclean's profiles pilfering prisoner who bilked millions
For accountants, stories about grifters and fraudsters are guilty pleasures, even if they come with a few life lessons. Which is why we recommend the fascinating tale of Sherri Lynn Lamarche, currently serving time in the Nova Institution for Women, near Truro, N.S., for bilking her employer of $7.6 million.
Like all well-written stories, the profile includes much fascinating detail — on the region's real estate developers, on gambling addictions, on revenge and retribution, and much more. And if you're into this kind of stuff, we also recommend Not everyone who commits fraud is greedy: the motivations of white-collar offenders, a TED Radio talk released just two days ago by forensic accountant Kelly Richmond Pope.
EY Canada to audit GTA municipalities
Ernst & Young LLP has been given the plum contract to audit the finances of the City of Toronto, Peel Region, Mississauga, Caledon, Brampton, and Newmarket. Why? Because all six municipalities (and many more in Ontario) say the Ford government's rush to smooth the way for developers is going to cost them millions — and hike the property taxes of their residents. Under the bluntly named More Homes Built Faster Act, developers don't have to pay the the fees that municipalities customarily charge them for some types of housing. So the fees meant for infrastructure will be paid by the public.
It will be interesting to see what EY Canada does with this one. The municipalities appear to welcome the audit according to the CBC. Will Ernst & Young bite the hand that feeds it (doubtful)? Or will some face-saving recommendation be adopted by everyone all around (more likely)?
Accounting Dealbook: MNP picks up PwC practice
Homegrown national accounting firm MNP continues its onward march towards coast to coast audit coverage. This past week, the firm announced it had purchased PwC Canada's practice in St. John's, Newfoundland. The company is not disclosing financial details about the transaction, which is set to take effect Monday, Aug. 7. According to an MNP news release, PwC partner Curtis Gagne and the majority of his team will join MNP, which has an office on Topsail Road in Mount Pearl.
MNP has been on a bit of a tear in the last few years, including in St. John's, Newfoundland. As Saltwire notes, "In June 2020, the company acquired two St. John's metro area accounting firms — White & Abbott Chartered Professional Accountants and Winsor Coombs Chartered Professional Accountants. A year later, the company acquired another local accounting firm — DMK Chartered Professional Accountants."
Quick Hits: Articles of Interest
Canadian
Trudeau government slammed for keeping oil company tax breaks in the midst of a 'climate emergency' (Toronto Star)

International
IFRS Foundation publishes comparison of IFRS S2 with the TCFD Recommendations (IFRS News)
Shortage Of Accountants Adversely Impacting Early-Stage Companies (Forbes)
U.S. accounting watchdog flags 'unacceptable' increase in audit deficiencies (Reuters)
Global securities watchdog backs new company climate disclosures (Reuters)
By Canadian Accountant staff.