Students
Gevorg Grigoryan
CPA Program
My top six strategies for passing Core 1 of the CPA PEP program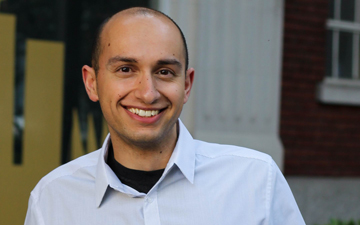 CPA program coach and mentor Gevorg Grigoryan on the most challenging of all the modules
VANCOUVER – It's widely known that Core 1 is the first module in the Chartered Professional Accountant Professional Education Program (CPA PEP). What's less known is that it is arguably the most challenging of all modules. Facts show that more candidates fail Core 1 than any other module.
I'll be honest, I've coached more CPA candidates in Core 1 than in any of the other modules. The top reasons candidates struggle with Core 1 are: 1, it's a fast-paced module; 2, the classes are self-led with little guidance; 3, the wide range of topics; 4, the time constraints of the cases; and 5, the challenge of finding 12-17 hours study time per week.
Luckily, for every challenge, there is a solution. I recommend you apply these six strategies to help you pass Core 1.
#1: Get organized.
You'll get access to the Desire2Learn (D2L) platform about a week before the official module start date. Use this week to get ahead. Download and print the learning materials (IPs and PCs) and start your readings. Believe me, you'll wish you had more time as the module progresses.
Then make a plan. Write out your life circumstances (family, friends, work, hobbies) and plan how much time you'll spend on each, and organize your calendar appropriately. The week before the exam is crucial. Make sure you don't have any commitments planned. Here is a sample action plan to help you stay organized:

Prepare an action plan for the three phases leading up to the module exam.
Before Core 1:
Find a study space
Clear clutter
Get notebooks and study tools
Download, print and organize the learning materials
During Core 1:
Study technicals and make notes
Attempt MCQ
Write IP
Write PC
Print solutions and debrief
Make more notes and build flashcards
Pre-exam:
Review your notes and flashcards
Re-attempt PCs
Practise with mock exam cases
Take a day off before the exam
Final review
Don't study on the exam day
#2: Manage your stress.
If you stick to your plan, you'll diminish most of the common stress factors. The reality is that there will be times when you'll feel mentally exhausted. Follow these stress management best practices:
Eat healthy
Sleep well
Exercise often
Discuss with a study partner
If you reach a point where you are failing your weekly assignments, find support quickly. Look for supplementary resources, join a peer study group, ask for a study mentor at work, hire a study coach, or find a study partner.
#3: Study smart.
You can make your life in Core 1 easier by studying the smart way. First, find your study style:
Do you take lots of notes?
Do you like to colour code?
Do you prefer computer notes or paper notes?
If you like writing paper notes and using lots of color, create colour codes for the technical topics. For example, the IFRS criteria can be red, while the ASPE green. Hopefully you would have figured out your study style in the undergrad studies, but in case you didn't, the two best practices are to summarize information and to write notes in your own words.
Here's a sample action plan to Core 1 smart studying:
Step 1: Read the eBook and make notes.
Step 2: Attempt the MCQs
Step 3: Debrief
Step 4: Apply what you learned on IPs
Step 5: Debrief again
Step 6: Attempt the PC
Step 7: Debrief again
Step 8: Go back to your notes and add lessons learned from the PC
#4: Debrief all the time
As you notice, I use the word "debrief" often. It's a very important concept; it means to compare your attempt with the solution and actively learn your mistakes. Candidates often develop most of their skills at this stage. Constantly debrief after each assignment and feed your new knowledge into your master notes.
Also keep in mind that in the first few weeks, you will go over the 60-minute time limit on the practice cases. It's not only okay, it's smart, because you're learning and there is no sense in rushing without learning the structure of cases.
#5: Handle the MCQs strategically.
Though MCQs seem like a breeze compared to case writing, don't underestimate their difficulty. You'll be hit with tough topics on the exam. I suggest to:
Practise with all MCQs provided in the module
Budget your time during the exam (you have around 2-minutes to answer each MCQ)
Move on when you're stuck.
#6: Master case writing.
Case writing is both an art and science. There are many schools of thought to effective case writing. Here are my top tips for Core 1 case writing:
Follow the "CPA Way" (i.e., issue, analysis, recommendation)
Take your time when reading and planning
Develop your own writing style
Format well (headings, subheadings, tables, bullet points, bolding)
Try memorizing technicals (opening the Handbook or Income Tax Act takes away valuable time)
Qualitative analysis is just as important as quantitative (don't focus on the numbers)
Know the exam blueprint
One of the challenges I mentioned was the wide range of topics. That's mostly a myth because there are key topics that are more testable than others. Know the exam blueprint and understand that some competencies will not be tested. In Core 1, you won't get Strategy and Governance (S&G) nor Management Accounting (MA), you don't need to focus on those, yet.
Conclusion
Despite the fact that Core 1 has the lowest module pass rate at 80 per cent, it is not impossible to pass. It's designed to be challenging to prepare you for you career as a CPA.
In my typical workday, as an accounting manager and CPA exam coach, I juggle changing priorities, integrate conflicting information, make quick calculations and give recommendations to various stakeholders. After going through Core 1, I find that candidates have improved not only their technical accounting knowledge, but their skill of prioritization.
Don't shy away from the challenge. Be smart and embrace the CPA journey.
Gevorg Grigoryan, CPA, is an accounting manager and instructor, mentor and coach to students in the CPA program. Visit Gevorg CPA to learn more and subscribe to Gevorg's YouTube channel to access CPA program videos.