Career
Advice
Strategy
Why ambitious corporate accountants should extend their role beyond finance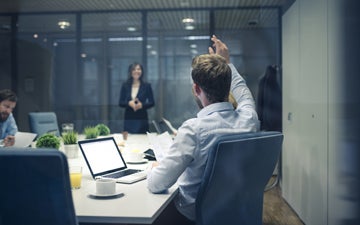 The role of the CFO is changing. Now is the time to forge your externally facing role
TORONTO, Feb. 6, 2018 – Canadian accounting and finance professionals in senior roles as corporate accountants should realize that the top finance role, chief financial officer, is no longer solely based on financial expertise. According to a report by the Rotman School of Management and executive search firm Odgers Berndtson, the CFO role is increasingly multi-faceted and more similar to that of business development executives or entrepreneurial CEOs than budget or control-oriented individuals.
That is not to say that an accounting designation has lost it value. In fact, the opposite is true, as the number of CFOs with graduate degrees at Canadian companies is in decline. In 2004, 32 per cent of CFOs had a master's degree, versus 24 per cent in 2014. It appears that the Chartered Professional Accountant designation has gained ground at the expense of the MBA. In 2004, 60 per cent of all CFOs were CPAs. That number has risen to 70 per cent.
But, as the president of one Canadian grocery giant says, an accounting designation, "while critical, is only one leg of the stool. What are you doing to address strategic thinking and the ability to drive operational performance?"
According to Chartered Professional Accountant Xerxes Cooper of IBM Canada, the role of the finance function was traditionally internal. "Our role is in the building, working in the back office and in a support function, versus being out there with clients."
That's all changed. "The modern CFO is getting out there in front of clients," says Cooper. "Not just the CFOs but COOs and CIOs." As a corporate accountant, says Cooper, "know you have a voice and you can provide a valuable point of view to the clients."
Cooper was, until recently, the chief financial officer of IBM Canada. He was recently appointed general manager of the company's technology services business. "It's the largest business unit at IBM Canada in terms of scope, size, scale, revenue and so forth," says Cooper. "So it's a big leap from the finance discipline and function, to new responsibilities for sales and overall business development."
He credits his promotion in part on extending his role beyond finance by forging an external role and influence. "You're not trying to make yourself the sales rep. But you can do early calls to clear the road, share the value proposition, or be a catalyst for the value proposition when the relationship is struggling. Support the sales and leadership team with their agenda."
A 2016 survey by McKinsey & Company noted the growing mandate of the CFO role, which now accounts for, on average, five functions other than finance, including risk, regulatory compliance, M&A transactions and execution. (Thirty-eight per cent of CFOs are responsible for IT, with some CFOs even managing cybersecurity and digitization.)
But four out of 10 CFOs reported spending most of their time on strategy, transformations or another non-finance area, with strategic leadership accounting for 46 per cent of their time. Cooper actually wishes he had extended his role externally, beyond the finance function, sooner.
"I would have wanted to spend more time leveraging the office, the title, and building that network with our clients and beyond, with CFOs but also with the CIOs." Cooper's advice to ambitious corporate accountants is to get out of the office and understand the marketplace. "Get out in front of your clients. Get out in front of your industry. Be social, both on social media and in the market. Believe in yourself that you have a valuable message to deliver."
Cooper addressed industry and finance groups and participated in a number of panel discussions on cybersecurity and transformation. He wishes he'd done even more. "The Canadian marketplace can feel large but it's actually quite small. It's the same players. Once you meet these folks they introduce you to others and you develop a network." That network, says Cooper, can bring solutions to challenges in your business, just as you can bring solutions to theirs.
And what of the legendary introversion of professional accountants, the aversion to public speaking and persuasion. Cooper has good news. When junior finance employees express interest in business development positions but doubt their presentation skills, he asks them how they spend a typical day.
"What you hear is presentation, presentation, presentation," says Cooper. "You spend your whole career [as a CPA] presenting, taking complex messages and making them precise. Taking challenging situations and finding ways to be a catalyst. It's no different than when you're in front of a [sales] client. You just have to have the confidence.
"You already do this today and you already have the skills. Have the confidence and get out there."
Colin Ellis is the managing editor of Canadian Accountant.