Business
National
RSM: Economic headwinds despite V-shaped Canadian recovery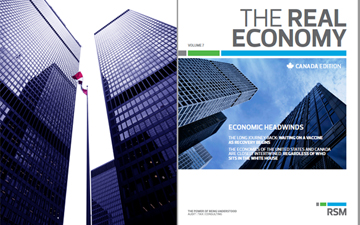 The ongoing pandemic and US presidential candidates pose problems for Canada
TORONTO, Oct. 22, 2020 – Defying the expectations of economic pundits, the Canadian economy is staging a remarkable V-shaped economic recovery during the ongoing pandemic, but will face "economic headwinds" due to the recent resurgence of new infections of COVID-19. According to "The Real Economy," the newly released report from accounting firm RSM Canada, "When discussing the Canadian economy, it is necessary to restate the obvious: There is no meaningful or complete recovery until there is a vaccine."
Volume 7 of The Real Economy is titled "Economic Headwinds." It reports that the consumer sector has accounted for most of Canada's growth during recovery process so far. The summer comeback of consumer confidence have influenced forecasts of a V-shaped GDP recovery in the coming quarters and sustained growth into 2022. These align with robust employment numbers that are outpacing the United States and resilient real estate numbers that "astonish many industry watchers."
Yet "society let its guard down" during the summer months, says the report, and "the idea that life can get back to normal remains aspirational." While the ongoing pandemic "might not have had the time to destroy all household balance sheets over the past nine months, the uncertainty and severity of the disease have diminished expectations for a brighter future."
Ongoing dangers of US economic ties
The RSM report notes that recovery for both Canadian and U.S. economies are closely intertwined. Growing dependence on the U.S. due to CUSMA and deteriorating relationship with China has hampered Canada's ability to chart its own economic course. Data shows total trade between Canada-China has trended downward since the beginning of the U.S.-China Trade War in 2018, while total trade between Canada and the U.S. has increased.
The current Republican administration's struggles to cap COVID-19 cases suggest that a re-election of President Donald Trump would present economic risks to Canada due to close economic ties. Trump's protectionist tendencies would indicate Canada may see further headwinds with its largest trading partner if he is re-elected.
However, "America first" policies are likely to continue, regardless of the election outcome. Democratic challenger Joe Biden's proposed "Made in America" tax incentive, which offers tax credits for companies in the U.S. that expand employment and salaries domestically, could potentially discourage future Canadian market expansion. Biden's willingness to adopt Trump's tough stance on China if elected suggests Canada will likely continue to be negatively affected by U.S.-China trade relations.
As reported by Canadian Accountant, Canada's oil and gas sector has already been hit hard by the global pandemic, including negative oil prices in April. As noted by RSM, Canadian oil pricing will be hit hard (further) if Biden follows through on his campaign promise to cancel the Keystone XL pipeline, a critical venture for Western Canada oil producers that would provide direct access to the Gulf Coast refineries and world markets.
The Real Economy analyzes the current economic data and outlook of the consumer, manufacturing, and financial sector, as well as the labour market. Its second section looks at the economic relationship between Canada and the United States and states that, "despite trade frictions over the past four years, the economies of the United States and Canada have become more interdependent." Whether "America First" or "Made in America," both policies pose problems for Canada.
Download Volume 7 of The Real Economy here. All editions of The Real Economy from RSM Canada are archived here. Colin Ellis is a contributing editor to Canadian Accountant. Photo by bantersnaps on Unsplash with front cover of The Real Economy.