Business
Technology
Profession
PwC Toronto opens doors to new Digital Experience Centre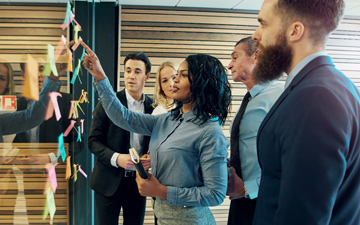 New innovation hub a concrete example of hyper-competitive technology consulting business
TORONTO, Dec. 7, 2017 – Accounting giant PwC has opened the doors to its new Digital Experience Centre on the 19th floor of its headquarters in downtown Toronto. The 8,000 square foot centre will serve as a technology hub that houses the firm's digital services team and provides space for client meetings and demonstrations. The open work environment is similar to start-up technology spaces and triple the size of its former innovation space.
The new Digital Experience Centre is a concrete example of the competitive race between accounting and consulting firms to provide business expertise at the intersection of commerce and technology, particularly to companies looking to adapt to digital technologies such as artificial intelligence and blockchain. Earlier this year, Deloitte reported global revenue of $39 billion, including a 10 per cent increase in consulting revenue, which the firm attributed to investments in its technology services, including cybersecurity.
Last February, PwC Canada made business headlines by hiring its first executive creative director, luring Jon Finkelstein, formerly of digital agency Mirum, to help build the digital services team. Marketing and creative employees and partners are becoming fixtures at the Big Four, as the firms have expanded their consulting services, particularly in the multifaceted area of technology.
The Digital Experience Centre will be a space where PwC Canada can work with corporate clients and co-create innovative, technology-based business solutions. In 2016, PwC opened a global drone centre in Poland, named Drone Powered Solutions, and Deloitte Ireland opened a blockchain hub in Belfast. According to Nadir Hirji, digital services partner and co-lead at PwC Canada, the PwC Toronto centre may become an artificial intelligence hub for the firm.
Colin Ellis is the editor of Canadian Accountant.