Business
National
Taxation
Morneau mars talk of tech tax support with tetchy remarks in Waterloo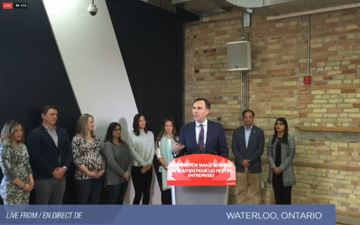 As Andrew Scheer meets with Waterloo business owners, Morneau bristles at media questions
TORONTO, Oct. 20, 2017 – At a press conference in Waterloo this morning, Finance Minister Bill Morneau reassured business owners that the Liberal government would "maintain incentives" for angel investors and tech entrepreneurs to grow the start-up economy. He also reviewed this week's series of taxation announcements, including the small business tax cut.
The Minister bristled at questions from reporters on his personal finances. "What I found is that there's some noise around this. There's people like you asking about specific issues in my personal finances." The Minister repeated that he would put his assets into a blind trust and then "find a way" to sell his shares in Morneau Shepell.
He dodged questions regarding why his holding companies were numbered and in Alberta, before saying, "The process we have in our country isn't that I report to journalists on my personal situation but that I report to the ethics commissioner."
This has been a disastrous week for the Finance Minister, as revelations regarding Morneau's own tax avoidance strategies, as the majority owner of human resources company Morneau Shepell, derailed the government's proposals aimed at tax fairness.
The week began with a report by the Globe and Mail that the Minister had not placed his personal assets in a blind trust, despite pledging to do so more than two years ago to shareholders and media.
That report distracted from Monday's announcement to "unfreeze" a tax cut to small business. The Minister then announced that the government would "take a step back" and reverse a proposal to restrict the conversion of income into capital gains.
Later, he announced a "threshold" of passive investment income of $50,000 per year for business owners, less than tax reform advocates had hoped.
Across town, Conservative Party leader Andrew Scheer spoke to local chambers of commerce in Cambridge and Kitchener-Waterloo, which had been vocal in their opposition to the tax plan put forth by the Liberals.