Practice
National
Business
Entrepreneurship report points to business opportunities for Canadian accountants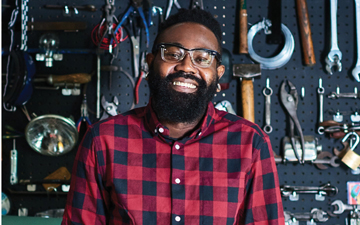 Nearly two million Canadians launched a business in the last 12 months
TORONTO, June 11, 2021 – A new survey by Angus Reid on behalf of Intuit QuickBooks Canada finds that, among Canadian entrepreneurs, one in five (21 per cent) started their business within the past year. Ongoing pandemic restrictions have inspired close to two million Canadians — more than the population of Calgary, one of Canada's largest metropolitan areas — to start a business during COVID-19.
Yet only one-third are using an accounting service or professional for support, despite close to half of respondents reporting worries about finances (46 per cent). A lack of knowledge and time is an opportunity for Canadian accountants to provide start-ups with services and existing resources from companies such as Intuit Quickbooks Canada and organizations such as the Canadian Federation of Independent Business and Chartered Professional Accountants of Canada (CPA Canada).
The numbers were revealed in a survey conducted by Angus Reid and are available in The Future of Entrepreneurship in Canada Report. Entrepreneurs who started their business in the past year did so due to more spare time from the COVID-19 pandemic (39 per cent), financial pressures from the pandemic (23 per cent), and as a result of being laid off (19 per cent).
"It's exciting to see that the entrepreneurial spirit in Canada is alive and well," says David Marquis, vice-president and country manager of Intuit Canada. "Although COVID-19 has undoubtedly disrupted the lives of Canadians, with disruption often comes opportunity. This could not be more true for entrepreneurs. And as we all begin to move forward, I think the millions of newly enterprising Canadians will be the key to our recovery."
While money is a significant motivator for entrepreneurs, it's also a point of concern, with close to half of Canadian entrepreneurs reporting worries about finances (46 per cent). Beyond financial challenges, being an entrepreneur is stressful. It takes time and energy that can deprioritize work-life balance and be mentally and emotionally draining, with one in four (27 per cent) working longer hours as a result of the pandemic.
Canadian entrepreneurs need support to succeed
Managing finances is one of the largest challenges for entrepreneurs, yet only one-third of Canadian entrepreneurs (33 per cent) are using an accounting service or professional for support. Behind that headline number is some fascinating data that should point the way to business opportunities for Canadian accountants and accounting firms.
For example, among the businesses started over the past year, three in four sell online, and over half sell exclusively online. And who is selling online only? Women entrepreneurs (42% of female entrepreneurs sell online vs. 34% of males). Along with selling online, entrepreneurs are also generally comfortable using digital tools to manage and build their businesses. Clearly, the future of entrepreneurship is digital, which bodes well for accounting firms and sole practitioners that have embraced cloud-based accounting solutions.
Across the board, the majority of entrepreneurs are comfortable using digital tools for marketing, banking, and communications. However, entrepreneurs are generally less comfortable when it comes to financial management software (see the report for data). Only a third report using an accounting service or professional. "With the desire to handle finances independently, but a gap in comfort, there's an opportunity for entrepreneurs to build their knowledge of digital financial management tools," states the report.
While entrepreneurs are, perhaps by default, optimistic when it comes to starting a business, they also struggle with the mental and emotional toll of daily stress. Some of that stress can be attributed to a lack of knowledge about the kind of tools that can help them succeed. Three out of 10 entrepreneurs want resources or courses in accounting and tax. Younger generations — Gen Z and Millennial entrepreneurs — and women are most likely to see value in these kinds of resources.
Providing resources to small businesses and entrepreneurs
Intuit QuickBooks Canada has a wide range of resources available to entrepreneurs and small businesses, including the Small Business Relief Initiative, guides and blog posts. The CPA Canada Financial Literacy Program, in partnership with the Government of Ontario, provides a number of resources as well.
This includes the "Mastering Money" podcast, available on Apple Podcasts, Google Podcasts, PodBean, and Spotify. The Educator's Edition series features expert guests who offer insights to entrepreneurs on manage their small business, including support and resources, how to plan for the future.
Colin Ellis is a contributing editor to Canadian Accountant. Download the The Future of Entrepreneurship in Canada Report.