Business
Global
Deloitte reigns supreme as Big Four report record global revenues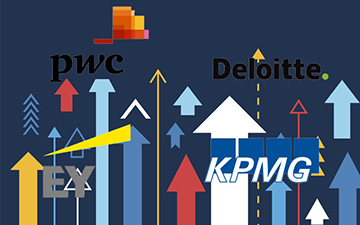 PwC, EY bottom lines boosted by consulting fees
TORONTO, October 3, 2018 – For the second year in a row, Deloitte has claimed the top spot in global revenue rankings among the Big Four accounting firms, spurred by a double-digit increase in consulting revenue.
Building on its dominant position in the Americas, Deloitte earned $43.2 billion globally in FY 2018. PwC, the top earner elsewhere in the world, scored $41.3 billion globally, two years after being ousted from the top spot. EY reported global earnings of $34.8 billion. KPMG typically releases its earnings in mid-December but is not expected to move from fourth place.
Deloitte has a labour force of 286,200 across more than 150 countries, with 77,390 new hires in 2018, and more than 90,000 employees who have received training through the company's branding and strategy operations at Deloitte University. That compares to 250,000 empoyees across 158 countries at PwC.
In September, EY reported its global revenues had increased by 11 per cent in FY 2018, matching the 11.3 per cent increase at Deloitte and 10 per cent increase at PwC (as calculated in US dollars). The company boasts 260,000 employees internationally, and its Canadian operations were awarded an Employer of Choice award in September 2018 from the Universum Canadian Student Survey.
EY claimed top spot among business students for innovation, inspiring purpose, corporate social responsibility and corporate transparency. Its performance in the innovation category alone increased by 38 per cent over 2017, 25 per cent above the competitor average.
Consulting revenues continue to rise
Advisory and consulting services continue to spur revenues overall at the accounting giants, a fact for celebration as well as concern among the Big Four and its stakeholders in business and government. While the Big Four define advisory services differently, Deloitte reported a 15.7 per cent increase in consulting services in technology, strategy & operations, and human capital, a full decade of double-digit growth.
Risk advisory revenue, driven by cyber, financial and operational risk, grew by 12 per cent. Financial advisory, particulary in the M&A sector, grew by eight per cent. The lowest percentage growth was in audit and assurance (7.7 per cent) continuing a trend in evidence at all the big firms. At PwC, the largest audit and accounting network in the world, assurance revenue grew by just four per cent. EY matched that with assurance growth of 4.4 per cent.
Since 2012, combined global revenue at the Big Four has risen 44 per cent, with just three per cent growth from the traditionally core business of audit, as reported by the Wall Street Journal. In 2017, consulting at the Big Four brought in $56 billion, as compared to $47 billion from auditing, raising concerns of conflict of interest.
The firms' press releases are noteworthy for the emphasis they place on corporate social responsibility. EY, a "purpose-driven" organization, is "building a better world." Deloitte is "embracing important public-interest responsibilities" with a "new mindset for societal impact." PwC, which received a record fine of £6.5 million ($8.5 million) from the U.K. Financial Reporting Council (FRC) over its audit of retailer BHS, downplayed its impact, issuing a mea culpa from global chairman Bob Moritz:
"No organisation is, however, perfect. We have been criticised this year, and where we have made mistakes we have taken responsibility for our actions. There are always lessons for us to learn and more that we can do to improve. We are also very conscious of some of the criticism that has been levelled at our profession. We take this very seriously; we are working hard to address it and to better demonstrate the contribution that we make to the capital markets and society as a whole. Nothing is more important to me than to lead a PwC that remains trusted, relevant and vital to serving the needs of all our stakeholders."
In September, the UK government announced a sweeping review of Britain's auditing industry, following the well-publicized collapses of Carillion and BHS. The review raises the spectre of major reforms, including splitting the consulting services from audit and assurance at the Big Four, more public representation on the profession's watchdog group (FRC), larger fines and increased scrutiny in addition to mandatory auditor rotation.
Reputation challenges have also dogged KPMG, with the downsizing of KPMG South Africa, following a government corruption scandal involving former President Jacob Zuma. KPMG SA announced today that it was replacing its chief executive officer in the country, just one year after being appointed to restore the firm's reputation.
In 2017, KPMG closed the year with reported global revenue of $26.4 billion, led by strong growth in its Asia Pacific operations. Advisory revenue grew by six per cent while audit revenue grew by 3.1 per cent. Canadian Accountant predicts that KPMG will report global revenue of $28 billion for FY 2018.
Colin Ellis is the managing editor of Canadian Accountant.