Profession
National
Business
Baker Tilly Canada a new name in Canadian accounting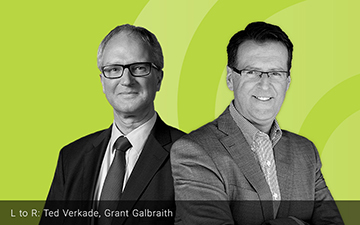 National network retires historic Collins Barrow brand
TORONTO, January 18, 2019 – Goodbye, Collins Barrow. Hello, Baker Tilly Canada. The largest group of independent accounting firms in Canada has bid farewell to an historic name and embraced a new stage in its brand evolution as Baker Tilly Canada.
The mid-market network of 20 accounting firms across Canada has been aligned with Baker Tilly International as its key Canadian member since 2009. With this rebrand, the network is "embracing the global representation, core values and brand positioning of Baker Tilly International, while maintaining our entrepreneurial mindset and autonomous structure," according to a spokesperson.
The unique structure of Baker Tilly Canada has not changed because of its rebrand. It is still a network of independent firms with a national board and committees (made up of representatives from the member firms) and national services like marketing and events. The national headquarters is in Waterloo, Ont., but the national network has member firms in major Canadian markets such as Vancouver, Toronto, Montreal and Halifax.
"In a rapidly changing and complex financial environment, nationally and globally, our independent network is agile and evolving," says Grant Galbraith, national chair of Baker Tilly Canada. "We are deeply committed to our investment in local expertise and service excellence, while embracing the power of global perspectives and connections. In doing so, we are strategically augmenting the value we provide to clients in all industries. Our new name, identity and vision reflect our true dedication to seizing tomorrow's opportunities, today."
An Historic Shift to Baker Tilly Canada
The Collins Barrow brand had a long history in Canada and substantial brand equity. The roots of the brand could be traced back to Collins & Collins in the 1920s. The contemporary firm of Collins, Love, Eddis, Valiquette and Barrow — later Collins Barrow — was founded in 1967. Forty-five years later, in 2012, it was the eighth largest Canadian accounting brand, with combined revenues of $140 million, serving more than 200 public entities as a collective.
"All Collins Barrow firms have chosen to rebrand as Baker Tilly — there are no longer firms retaining the Collins Barrow name," a spokesperson told Canadian Accountant. "Though we have rebranded, we celebrate the legacy of Collins Barrow, while simultaneously embracing this next stage of our brand evolution. The opportunities that arise from taking on a globally recognized brand will only augment the value we have long provided to clients."
The historic shift in branding represents a change in name and visual identity only; the structure and ownership of the network will remain the same. "Each of our member firms continues to maintain independent ownership and management, which is what ensures our deep understanding of local markets and provision of specialty services," according to the company.
"We are proud to have Baker Tilly firms represented across Canada in British Columbia, Alberta, Saskatchewan, Manitoba, Ontario, Quebec and Nova Scotia. Our more than 1350+ professional staff and 180+ partners provide a full range of audit, tax and advisory services."
A Global Brand Refresh and Canadian Rebrand
Baker Tilly Canada has adopted a new tagline from Baker Tilly international and purpose at the heart of this brand evolution: "Now, for tomorrow." According to the network, the tagline signifies the dedication and investment — at both a global and national level — to build a solid foundation of growth in the present, for the future.
Baker Tilly international announced a refresh of the global brand in late 2018. By the end of January 2019, member firms in 130 territories will adopt the trade name Baker Tilly. "Disruption is all around us and standing still is not an option," said Baker Tilly Chairman and CEO Alan D. Whitman this past December. "We aren't afraid to have tomorrow's conversations today. We embrace the unknown because of the possibilities it can bring."
Ted Verkade, CEO of Baker Tilly International, congratulated Baker Tilly Canada on its rebrand and commitment to growth. "The new Baker Tilly brand is a symbol of our capacity to adapt to the ever-changing needs of clients around the world. We invest in great relationships and conversations to achieve great futures," said Verkade. "By embracing the opportunities and challenges of tomorrow, in the present, Baker Tilly Canada is creating a catalyst for innovation, growth and client success."
Colin Ellis is the managing editor of Canadian Accountant. With files from Baker Tilly Canada.