Business
Global
Practice
Advisory services drive banner year for accounting's Big Four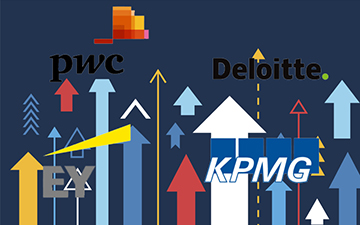 With KPMG reporting, global revenue numbers are in for 2018
TORONTO, December 13, 2018 – With today's release of global revenue numbers from KPMG International — the last of the Big Four to report fiscal year-end numbers — 2018 will go down as a banner year for the Big Four. Deloitte, EY, PwC, and KPMG together enjoyed a global increase in revenue of 10.4 per cent, the largest increase in more than a decade, making a combined $148.2 billion, up from $134.3 billion the previous year (all figures in U.S. dollars).
As private partnerships rather than public companies, the Big Four do not disclose profits, only revenue. Advisory services drove the record revenues, with 43 per cent of combined revenues coming from consulting work, compared to 34 per cent coming from traditional auditing services. The remaining revenue came from tax and legal work. While growth is strong in audit revenue, at a combined 7.5 per cent, growth from consulting rose 13.1 per cent from the previous year.
Deloitte reigns supreme
Deloitte claimed the top spot in global revenue rankings among the Big Four accounting firms. Building on its dominant position in the Americas, Deloitte earned $43.2 billion globally in FY 2018. PwC, the top earner elsewhere in the world, scored $41.3 billion globally, two years after being ousted from the top spot. EY reported global earnings of $34.8 billion. This week, KPMG International reported record revenue of $28.9 billion.
In terms of growth, Deloitte led the Big Four with an 11.3 per cent increase in 2018, with EY (11 per cent) and PwC (10 per cent) hot on its heels. KPMG's increase of 7.1 per cent over the prior fiscal year was an improvement over its 4.8 per cent ($26.4 billion) growth rate in 2017.
Consulting Revenue Continues To Grow
As of 2015, the Big Four have generated more from consulting than they do from auditing; in 2017, for example, consulting at the Big Four brought in $56 billion, as compared to $47 billion from auditing. As reported by the Wall Street Journal, "since 2012, consulting and advisory revenue has grown 63%, compared with 11% for audit revenue."
The Big Four continue to make significant investments in advisory services. KPMG International, which reported 9.7 per cent global revenue growth for fiscal 2018, is typical. "KPMG is continuing with a multi-year global investment program, investing more than US$4 billion in innovative new services, technology, and acquisitions over the next four years," says KPMG International Chairman Bill Thomas.
"This investment program is focused on transformative technologies, such as artificial intelligence and intelligent automation, cyber security, and our intelligent audit and tax platforms. Just as we are working with our clients around the world to transform their businesses, we're also harnessing the power of digital transformation to drive our growth and raise the level of efficiency, innovation and quality," adds Thomas.
In Canada, as reported previously by Canadian Accountant, the consulting arms of the Big Four outpaced the overall Canadian consulting market, growing by six per cent to $1.55 billion. Digitizing legacy technology systems and fintech in general are seen as major drivers of growth in Canada.
"The market was very active in Canada in 2017, with lots of spend across all industries and all service offerings," said John Moore, partner, national consulting leader, Canada, at PwC. "It was a really good market. We think this trend will continue, unless some macroeconomic event like inflation dampens overall GDP growth."
By Canadian Accountant staff.