Business
National
Accounting, finance employers will lead salary increases in 2019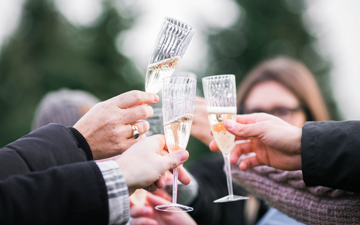 Economy booming, labour market tight, says 2019 Hays Canada Salary Guide
TORONTO, December 7, 2018 – Canadian accounting and finance professionals can anticipate the highest salary increases among most sectors of the economy in 2019, according to the 2019 Hays Canada Salary Guide. "By all accounts, business in Canada is booming," states the ninth annual report on compensation, benefits and overall employment trends across Canada.
The guide is a review of employers' perspectives over the past 12 months and a barometer for the year ahead, its data was compiled from an annual survey of more than 4,000 Canadians. "Employers saw gains in 2018 and they expect more next year. They are optimistic and have big plans to hire permanent staff in 2019. However, most are holding out on raises for current staff while admitting that they are willing to spend to attract new candidates instead."
Bucking the trend are Canadian accountants, as Canada's accounting and finance employers lead the pack when it comes salary increases. Wage hikes are expected to be higher in this sector than in all others with 28 per cent of employers expecting to increase salaries more than three per cent (compared with 24 per cent across all sectors).
Canadian economy is booming
Hot on the heels of the latest jobs report, which shows that Canada generated a record number of jobs last month and the unemployment rate fell to the lowest in more than four decades, 79 per cent of employers in accounting and finance cited a moderate-to-extreme skills shortage. Sixty-two per cent of employers expect permanent staff levels to climb for the upcoming year, 19 per cent higher than other industries.
The Hays poll also found employers have chosen to boost salary offers to entice new candidates — a concerning signal that the country's employers are struggling in a tight labour market. Employers need to think beyond offering competitive salaries to attract top talent. While salary is the main reason employees are leaving their jobs, career progression comes in at a close second. Offering candidates a full package during recruiting should not be underestimated.
"Despite 2018 success, the negative impact of talent shortages is at its highest point since 2015," says Rowan O'Grady, president of Hays Canada. "From an employer's perspective, the job market is extremely competitive and without the right people in place, next year's business goals could end up in doubt.
"So, employers have curtailed spending on existing staff in favour of getting new candidates through the door. The intent may come from a good place, but this is a band-aid solution for a complicated challenge," adds O'Grady. "Without taking a more holistic view of staffing or having smart support and advice, further workforce problems are all but inevitable."
While frustration is growing among current staff in many sectors, the accounting and finance sector is bucking the trend, "setting an example that others might want to consider." Forty-six per cent of employees in the accounting and finance industry consider their salaries competitive.
A commitment to increasing permanent headcount likely stems from lessons learned in 2017 when unanticipated business growth led to contract staff hiring at double the expected rate. New data suggests that last year's erroneous forecasting and what was thought to be an unwillingness to commit to long-term staff has since given way to prudent 2019 business planning. When asked, employers said they expect to take on contract and temporary staff to address the need for special skills but permanent hiring remains a priority within IT (45%) and financial (48%) departments.
Employees have the upper hand
Many experts acknowledge that employees have the upper hand in the current job market. Hays' labour market experts observed a spike in job vacancies in 2018. New positions and opportunities are being created each day, leading many to shift roles at an increasing rate. This, coupled with stagnating salaries for current employees, will spark churn as the economy continues to soar.
Encouragingly, employers said they have taken steps to protect their talent assets. Slightly more than half of Hays Salary Guide respondents noted that salary is a retention challenge followed by career progression (42%). In response, 53 per cent are working to make compensation and benefits packages more attractive while a similar number (50%) promote their working environments and professional development (39%) among current and prospective employees. An ongoing companion study conducted by Hays validates this strategy having demonstrated that employees seek salary alongside training opportunities and rewarding culture.
"Many Canadians have followed through on their vow to leave companies that don't meet their expectations and it's reassuring to see employers taking ownership of the problem," adds O'Grady. "This is as much about career growth, variety and challenge as it is about salary and many employers have figured that out. All signs point to a tightening employee market in 2019 so, I sincerely hope to see more of this type of action in the year ahead."
Colin Ellis is the managing editor of Canadian Accountant. Photo by Nik MacMillan on Unsplash.